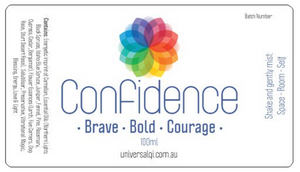 Confidence Mist
Regular price $29.95 Sale
Stand boldly with confidence mist as it empowers you with courage and bravery to conquer any mountain. 
Hand crafted, this mist contains the energetic imprint of crystals, therapeutic grade essential oils and flower essences and is then blessed, empowered with Reiki energy, and the healing vibration of the heart chakra singing bowl is absorbed and then an individual energetic vibrational magic weave binds it all together.
Crystal:
Carnelian is a stone of action that will give you the courage and confidence to move forward on a new path in life. It lends to courage needed to help overcome difficulties and promotes positive life choices.
Essential Oils:
Northern Lights Black Spruce The Black Spruce trees are bathed in the energy of the aurora borealis which is believed by many cultures to contain spiritual renewal and clarity in British Columbia, Canada. This oil helps us to 'reach for the sky' as it supports us to become our potential.
Idaho Blue Spruce It is physically grounding and relaxing. It is also grounding and provides a feeling of deep peace and security. It helps us to open our heart by providing a sense of security and trust in who we are (and the universe). It empowers us to be that person by knowing that you are safe to become that person.
Juniper This oil helps us release thoughts of suppression, insecurity and anger. These negative thoughts hold us back from aligning with our spirit and developing a deeper divine consciousness.
Fennel Emotionally and spiritually, fennel supports a person's responsibility (or confidence in their ability to respond). This means it might help a person struggling with self-doubt, low self-esteem, lack of motivation, accountability, or stubbornness, and help them live in alignment with their values and integrity. Historically, it was even used to bestow strength and courage to warriors, and may support stamina and longevity by strengthening the solar plexus.
Pine oil It is physically grounding and relaxing and encourages positive feelings while boosting self-confidence.
Rosemary is very emotionally strengthening and energising. They are great for confidence building. Helps to walk in your truth by being faithful to your self and your own destiny or purpose.
Cypress It is spiritually grounding and helps us accept change by allowing us to go with the flow and feeling more secure with ourselves.
Cedarwood has an earthy aroma that is soothing and grounding. Helps you embrace the feeling of being totally safe and secure with yourself as well as in your environment. As fears are released, the heart is open to spiritual love and protection which also brings self acceptance and love.
Bergamot eases stress due to its calming and centring scent. It helps with one's sense of self: self-love, self-worth, self-acceptance, self-judgment, self-hatred. This oil helps us do the work necessary to step out of our fears of not being good enough, or our habits of holding back for fear of rejection of Who We Are, and helps us to learn to love and accept ourselves
Flower Essences:
Larch relates to the soul quality of self-confidence. It is the remedy for people who feel that they are not as competent as others. They lack confidence in their ability to do things well, assume they will fail, and often don't bother to try.
Five Corners resolves low self-esteem, lack of confidence and diminished self-love.
Dog Rose is the Essence for treating fears, niggling little fears, not terror. Overcoming fear allows an increase in the flow of the vital force, quality of life, courage and self-esteem. It is also for shy, insecure, timid, nervous people.
Sturt Desert Rose is for following your own inner convictions and morality, helping you to follow through with what you know you have to do. If one is not true to themselves then there can often arise, as a consequence, feelings of regret or remorse. It can restore self-esteem that has been damaged by past actions you may have felt guilty about.