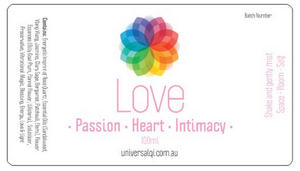 Love Mist
Regular price $29.95 Sale
Passion • Heart • Intimacy •
Fill your heart with love and experience intimacy and passion with yourself and others.
Hand crafted, this mist contains the energetic imprint of crystals, therapeutic grade essential oils and flower essences and is then blessed, empowered with Reiki energy, and the healing vibration of the heart chakra singing bowl is absorbed and then an individual energetic vibrational magic weave binds it all together.
Crystal:
Rose Quartz has a powerful energy that resonates love.
Essential Oils:
Ylang Ylang traditionally used to relax the mind and balance emotions. A well known aphrodisiac, its calming effects are particularly helpful to make your sexual experience feel deeper and more profound. It sooths the emotions of anxiety, anger, worry and fear and gets you in the mood for some loving.
Sandalwood has a rich, sweet, warm, woody aroma that is sensual and romantic. A potent tension reliever that is traditionally used for meditation.
Jasmine with its sweet, floral aroma relaxes the mind, boosts self-confidence and promotes a positive outlook on life. It has been used through out history for romance and attraction. Provides a balancing effect on the nervous system.
Clary Sage has a nice herbal aroma that relaxes the mind and helps balance moods. It's deeply relaxing, promotes euphoria, feelings of wellbeing and acts as a powerful aphrodisiac. It is also a valuable hormone balancing oil.
Bergamot has a light citrus aroma that has a relaxing effect and helps build confidence and enhances your mood.
Patchouli is a mood uplifter; it brings relief to stress related tensions, eases anxiety and promotes an overall sense of wellbeing. It affects the nervous system and brings rest to frigidity, nervous tension and stress related complaints.
Elemi brings balance to both the spiritual and emotional planes. It aligns the chakras and relieves stress to the body.
Flower Essences:
Billy Goat Plum for feelings of shame, self-disgust and self-loathing. For those who feel revolted and dirty about sex and feel unclean afterwards. Helps open the mind and have acceptance for self and one's physical body & allows sexual pleasure and enjoyment.
Flannel Flower is for people who are uncomfortable with emotional intimacy as well as physical contact and touching, and for people who have difficulty in maintaining their personal boundaries. It helps one to totally trust and express verbally their innermost feelings. It brings both males and females a desire and enjoyment in, expressing themselves physically. It is excellent for males allowing for a gentleness, softness and sensitivity in touching.
Wisteria is for women who are uncomfortable with their sexuality. They may be unable to relax and enjoy sex, or afraid of physical intimacy and/or sexuality. Works to clear negative believes around sex and allowing sexual enjoyment, openness, gentleness and ease of sexual intimacy. Wisteria also allows the 'macho male' to be more aware of his softer, feminine side.