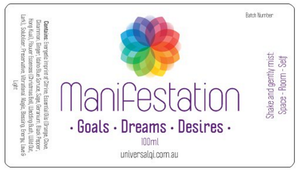 Manifestation Mist
Regular price $29.95 Sale
Goals • Dreams • Desires •
Helps pull your desires, dreams and goals closer to manifestation like a powerful universal magnet.
Hand crafted, this mist contains the energetic imprint of crystals, therapeutic grade essential oils and flower essences and is then blessed, empowered with Reiki energy, and the healing vibration of the heart chakra singing bowl is absorbed and then an individual energetic vibrational magic weave binds it all together.
Crystal:
Citrine is the crystal of manifestation and prosperity.
Essential Oils:
Orange calming effects and may be used for feelings of peace. It will lend support by uplifting and promoting a positive attitude while calming our spirit.
Clove provides insight, helps us reflect on the causes of our sabotage; and assists us in releasing them because they no longer serve us.
Cinnamon brings feeling of joy, and is said to attract wealth by transforming our core beliefs of limitation into abundance.
Ginger addresses "lack" and therefore would assist those who need self-confidence and motivation to put plans and ideas into the physical realm. In other words, it allows us to "digest" parts of ourselves that need to be changed so we can better serve ourselves.
Idaho Blue Spruce helps us to open our heart by providing a sense of security and trust in who we are (and the universe). It empowers us to be that person by knowing that you are safe to become that person.
Sage helps to uplift and aid with mental fatigue. It has been recognized for its ability to strengthen the senses and vital centres of the body.
Geranium helps diminish fears of abandonment, love and commitment. It asks that one be more accepting and thus more loving of self. As we love ourselves more, than we can fully commit to loving others.
Black Pepper is good for those of us who worry constantly and have great stress. It empowers us to release those negative energies and embrace our own power. It also gives us the physical stamina and courage to overcome the things that are creating the problems to begin with.
Hong Kuai grounds the body and eases spiritual, mental and emotional tension. It opens the third eye and thus opens up awareness, intuition, possibility and clarity. Whilst maintaining solidity and confidence; and releasing irritation when using this oil.
Flower Essences:
Christmas Bell helps one to manifest his or her desired outcomes and is extremely beneficial for anyone experiencing a sense of lack.
Wedding Bush is excellent for commitment, whether in relationships, employment, the family or personal goals.
Wild Oat can help us make the committed connection to the world that is a prerequisite to the clarity about direction. We must become truly involved in the game of life if we are to see what position we can best play, and in this way share the prize of achieving a common purpose.
Larch encourages one to try for our personal best, Larch helps access our confidence in our own unique creative talents, giving us faith on our capacity to have an honest go.