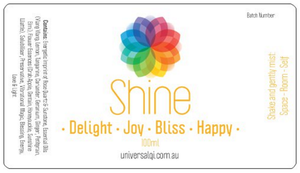 Shine Mist
Regular price $29.95 Sale
Delight • Joy • Bliss • Happy •
Perfect to overcome feelings of gloom and doom and install feelings of delight, joy, bliss and happiness it will make you shine and uplift any mood.
Hand crafted, this mist contains the energetic imprint of crystals, therapeutic grade essential oils and flower essences and is then blessed, empowered with Reiki energy, and the healing vibration of the heart chakra singing bowl is absorbed and then an individual energetic vibrational magic weave binds it all together.
Crystals:
Rose Quartz has a powerful energy that resonates love.
Sunstone is a powerful aid to bring joy and other positive feelings into your life.
Essential Oils:
Ylang Ylang promotes physical and emotional support for the heart, mind and body.
Lemon is very uplifting to the body and mind. It will release patterning and open the heart, the result is joy and hopefulness with clear thought.
Tangerine uplifts and eases stress.
Coriander is calming and gently uplifting.
Geranium lifts spirits and eases nervous tension.
Ginger helps us feel physically energised.
Petitgrain is emotionally balancing and very uplifting. Helps us relinquish self control and instil self love and acceptance.
Elemi brings balance to the spiritual and emotional planes. It aligns and balances the chakras and relieves stress in the body.
Flower Essences:
Crab Apple for recognition of the beauty within all.
Gentain is for that relatively mild downheartedness we sometimes feel when things go wrong.
Honeysuckle allows you to live in the present rather than the past.
Sunshine Wattle allows you to see the beauty, joy and excitement in the present and optimistically anticipate the future.